ANNOUNCEMENTS
REGISTER NOW FOR THE 2019 ESIL ANNUAL CONFERENCE IN ATHENS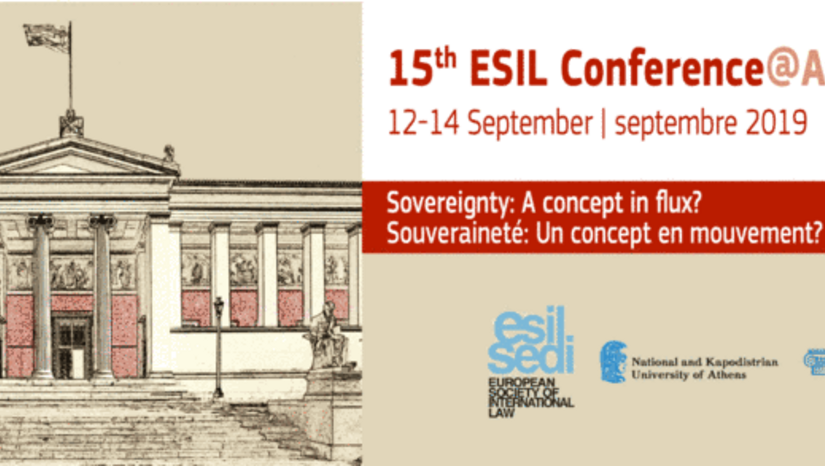 Dear all,
Preparations for the ESIL Annual Conference in Athens are well underway. Speakers and chairs have been invited, and the programme is taking shape. The agora selection committees have now selected the papers for the agorae and submitters will be informed of the outcome by the end of March. All 16 ESIL Interest Groups have booked rooms for pre-conference workshops on the Thursday morning.
Further details on the conference website, where you can also find the registration platform and information about accommodation options in Athens.
Conference highlights include:
18 different panels with more than 50 presentations
Welcome address by the President of the Hellenic Republic
Keynote address by Yves Daudet
Closing round-table discussion with Georges Abi-Saab, Eyal Benvenisti, James Crawford, and Catherine Redgwell
A talk by Joseph Weiler on publishing strategies for young scholars
The award of the ESIL Book Prize and the ESIL Young Scholar Prize
A conversation with the winner of the 2018 ESIL Book Prize
16 pre-conference ESIL Interest Group workshops on Thursday 12 September
Book exhibitions by ESIL institutional members and other exhibitors
ESIL Mentoring Session for early-career scholars
Lunchtime meeting of the editors of International Law journal
We hope to see many of you at this year's conference. Register now to be sure of a place!
The ESIL Board and the local organizing team