NEWS AND EVENTS
ONLINE SUMMER LAW SCHOOL ON INTERNATIONAL INVESTMENT LAW 2020 - APPLICATIONS ARE OPEN!
Wednesday 10 Ιουνίου 2020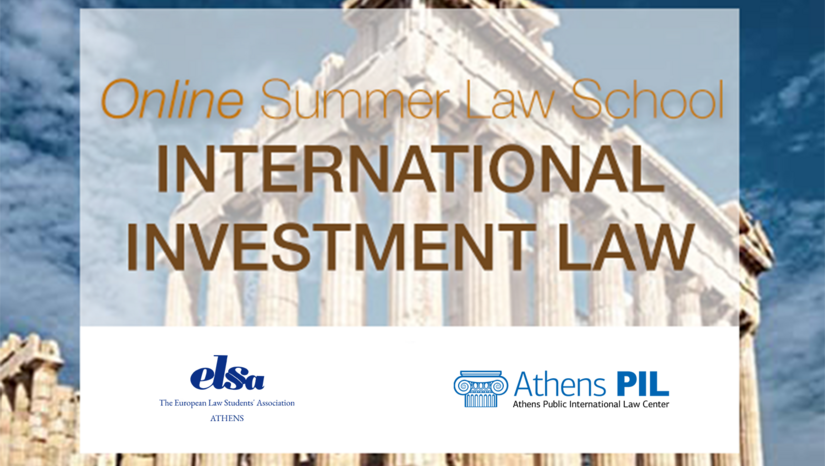 Online Summer Law School on International Investment Law 2020
Due to the COVID-19 pandemic, it has been decided that the Summer Law School on International Investment Law, co-organized annually since 2016 by ELSA Athens and Athens PIL, will take place in webinar format, exceptionally for this year only, as ELSA Webinars Academy for International Investment Law 2020, retaining the structure and dates of the original academic programme. The summer school will take place between 17 to 22 August 2020.

The ELSA Webinars Academy for International Investment Law 2020 is jointly organized by ELSA Athens and the Athens Public International Law Center (Athens PIL) of the School of Law of the National and Kapodistrian University of Athens, under the academic supervision of Dr Anastasios Gourgourinis.

The ELSA Webinars Academy for International Investment Law 2020 will consist of a total of 30 hours of interactive lectures over 6 days, and will provide participants with all the essential tools to grasp the key aspects of international investment law, while also addressing some of the currently "hottest topics" of the field. The programme will also feature two online interactive workshops conducted under the aegis of ICDR Y&I and Young ICCA.

The Faculty of ELSA Webinars Academy for International Investment Law 2020 includes (in alphabetical order):
Claudia Annacker (Partner, Cleary Gottlieb Steen & Hamilton LLP)
John Apsouris (General Counsel, Hellenic Petroleum Group; Chair of the Legal Issue Group of FuelsEurope, a division of the European Petroleum Refiners Association)
Panagiotis Chalkias (Associate, White & Case S.A., Geneva; Young ICCA Co-Chair)
Daniel Costelloe (Counsel, WilmerHale, London)
Georgios Dimitropoulos (Associate Professor of Law, HBKU College of Law)
Aikaterini Florou (Senior Lecturer and LL.M. Course Coordinator, University of Bedfordshire)
Filippo Fontanelli (Senior Lecturer in International Economic Law, University of Edinburgh)
Camilla Gambarini (Senior Associate, Withers LLP, London; Young ICCA Co-Chair)
Anastasios Gourgourinis (Lecturer in Public International Law, National and Kapodistrian University of Athens School of Law; Athens PIL)
Clotilde Jourdain – Fortier (Professor in Private Law and Criminal Sciences and Director of the CREDIMI, University of Burgundy, Dijon)
Stella Leptourgou (Deputy Counsel, ICC International Court of Arbitration)
Chrysoula Mavromati (Legal Adviser, Department for International Trade Legal Advisers, UK Government Legal Department)
Antonios Metaxas (Professor of EU Law, University of Athens)
Federico Ortino (Reader of International Economic Law, King's College London)
Thomas – Nektarios Papanastasiou (Assistant Professor of Public International Law, Neapolis University, Pafos – Faculty of Law)
Martins Paparinskis (Reader in Public International Law, University College London)
Ioannis Prezas (Associate Professor of International Law, University Paris 1 Pantheon – Sorbonne; Sorbonne Research Institute for International and European Studies)
Tim Rauschning (Senior Associate, Luther, Hamburg)
Silja Schaffstein (Counsel, Lévy Kaufmann–Kohler)
Claire Sergaki (Associate, Dryllerakis & Associates)
Eduardo Silva Romero (Partner and co-Chair of the International Arbitration global practice, Dechert LLP; Professor Emeritus of Rosario University, Bogota; Professor of International Contracts and Investment Arbitration at Sciences Po, Paris)
Marina Trunk – Fedorova (Associate Professor, St. Petersburg State University; Senior Research Fellow, University of Kiel)
Lukas Vanhonnaeker (Postdoctoral Research Fellow, McGill University – Faculty of Law)
Paolo Vargiu (Lecturer in International Law, University of Leicester)
Matthew Weiniger QC (Dispute Resolution Partner, Global Co-Head of International Arbitration, Linklaters LLP)

The Organizing Committee will prepare the Webinar Room and send an email invitation to participants beforehand. The Webinar Room will include a number of interactive features and advanced webinar settings.

Daily lectures will start at 10.00 CEST and end at 17.00 CEST, with a two-hour break between 12.00 CEST and 14.00 CEST.

A certificate of participation will be awarded to participants who have attended at least 80% of the academic programme
The tuition fee for ELSA members/alumni is EUR 40.00, and for non-ELSA members EUR 50.00.
The application form can be found here. The application period will close on Friday, June 18, at 23.59 CEST.